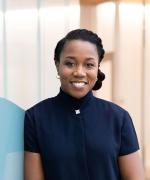 Assistant Professor
Research Areas: Human Computer Interaction, Learning Sciences, Education Technology Design, Computer Science Education
Biography
I am an Assistant Professor at Georgia Institute of Technology's School of Interactive Computing. I design culturally informed STEM education technologies and increase access to computer science education in sustainable ways for low-income students and underserved communities. My work prioritizes identity development, engagement, and long-term sustainability of interventions.
Prior to Georgia Tech, I was a post-doctoral researcher at Carnegie Mellon's Robotics Academy. I have a PhD in Human-Computer Interaction from Carnegie Mellon's HCI Institute and was advised by Amy Ogan and Ken Koedinger.
My research has contributed to the design of a tablet-based learning system used to supplement formal education by over 500 students in rural Tanzania, programmable video games codesigned with children to increase computational thinking and coding skills among low income and marginalized youth in the United States, codesign of a state-wide Artificial Intelligence middle school curriculum, and active collaboration with several schools and organizations. As a passion project, I review children's storybooks that celebrate African history and culture.