Human-Computer Interaction
Human-Computer Interaction (HCI) is an interdisciplinary field that encompasses the study of how individuals interact with computers and technology throughout their lives. The primary objective of HCI research is to develop user interfaces that are not only useful and usable but also enjoyable for individuals. It encompasses a broad range of activities, including design, development, and evaluation of computer systems, all with the aim of understanding the impact of technology on people and society.
The overarching goal of the HCI community is to create transformative technologies, experiences, and systems that empower individuals to reimagine and redesign their lives. This involves engaging people worldwide in meaningful and creative experiences that integrate art, science, design, and engineering. By exploring the intersection of humanity and technology, the HCI community collaborates with organizations and communities globally to turn ideas into reality through exceptional education, research, innovation, and the cultivation of creativity.
In pursuit of inventing a better and more just future, the HCI at GT embraces the principles of exploration, iteration, collaboration, and critical analysis. Through imaginative thinking, playful collaboration, and pushing the boundaries of research and innovation, they strive to transform ideas into impactful applications, fields, and movements. Furthermore, the community aims to provide opportunities for individuals worldwide to engage in their own creative explorations, envisioning better lives, communities, and environments.
The values upheld by the HCI community include excellence, integrity, humility, celebration of individuality and community, and fostering creativity. They approach their work and interactions with honesty, transparency, respect, and self-accountability. Embracing diversity in all its forms, including cultural backgrounds, personal identities, cross-generational experiences, and a variety of interdisciplinary research, GT HCI cherishes its magical and quirky nature while fostering inclusivity and care.
The GT HCI faculty research a broad spectrum of interdisciplinary domains including healthcare, design, sustainability, learning/education, responsible computing, ubiquitous and wearable computing, and security, amongst many others. The mission of the HCI community at GT is multi-faceted. It involves applying rigor and creativity consistently, infusing HCI methods appropriately throughout the institution and beyond, pushing the boundaries of the problems addressed by HCI, expanding the tools and methods used to tackle those problems, delivering artifacts, services, and systems that enhance people's lives, while always keeping in mind that people are at the heart of their work. 
Affiliated Labs, Programs & Institutes
Judith Uchidiuno
Image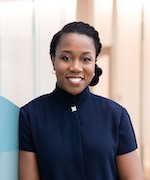 Assistant Professor
Personal Website
UBIQUITOUS & WEARABLE COMPUTING